Slanica Beach among the 8 most romantic beaches on the Croatian coast according to Zadovoljna.hr portal
Slanica Beach among the 8 most romantic beaches on the Croatian coast according to Zadovoljna.hr portal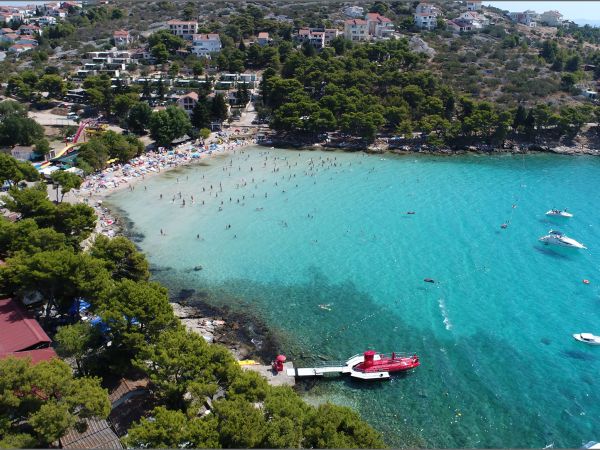 Other
Portal Zadovoljna.hr has published an article where Slanica beach is among the most romantic beaches in Croatia.
Slanica is the most popular beach on the island of Murter. Its crystal blue sea and sand dunes remotely reminds of the paradisiacal beaches of the most famous Hollywood movies and therefore has to be found on the list of the most romantic beaches on which you would like to spend the summer.
Slanica Beach is rich in various content and is ideal for young couples, elderly people, families with children and those looking for fun. Part of the beach is sandy and partly concrete and rocky. On the beach there are numerous bars, kiosks with food and restaurants where you can enjoy Dalmatian specialties.
Sports fans can have fun playing beach volleyball, tennis and many other sports, and for children there is an amusement park. The sea is shallow up to 30 feet from the shore and is very convenient for the picigin fan. The beach is always crowded and maybe not the first choice for those who want to spend their holidays in peace and quiet.
If you come by car near the beach there is a parking lot charging costs up to five o'clock p.m. and is free after that.
News - All
Slanica Beach among the 8 most romantic beaches on the Croatian coast according to Zadovoljna.hr portal